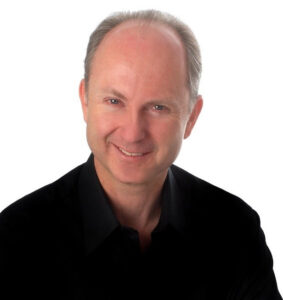 Meet your Therapist–Hawten Slaton, LMT, CMT "Master Massage Therapist"
Hawten's interest in all things holistic came growing up in Northern Colorado with a family homestead. Two large gardens and a tree orchard were part of my upbringing. My Father was a back to the land/get it done kind of guy. My Mother was a woman that investigated nutrition and food as medicine. I Learned about, vitamins, herbs and therapies like reflexology from her. Both were products of the depression and taught me many things about self-reliance and health. After High school I eventually went to Aims community college where I studied liberal arts. I invested my time in yoga, psychology, biofeedback and holistic health. On one day my psychology teacher was discussing the value of touch and brought in a special guest to help us experience this first hand. A local massage therapist showed us some simple massage strokes for our necks and shoulders, and we all set on the floor and massaged each other in a big line. At that moment the light bulb went off in my head; this what I wanted to do. I had studied so many healing arts and holistic health there at AIMS and this was the class that brought me to my path! I am a natural nurturer as I grew being an empath and not really knowing what that was till later in my life. As I studied deeper and come to understand what an empath was. I finally understood all of the times I could deeply feel what was happening with others. This has helped me have insight into my massage clients as I have practiced for over 25 years and have gained so much experience with the human psyche.  I run a very successful practice with wonderful clients. I am so glad to practice the art and science of Massage Therapy I look forward to helping you soon.
Credentials:
Hawten Slaton is a Licensed Massage and Certified Massage Therapist.
Licensed to practice massage therapies in the State of Colorado. Registered Therapist in the State of Colorado – exceeding all state standards for training, licensure, certification and standards of practice.
Certified Massage Cupping practitioner.
Completed certification in Advanced Materia Medica Aromatherapy from the American College of Health Care Sciences.
Current Member in good standing: National Association of Massage Therapist. https://namtassociation.com/
Graduate of the Boulder School of Massage Therapy, Boulder Colorado. Certified Massage Therapist with over 1000 hours training
Reiki Level-1 Practioner
Pranic Healing Level-2 Practioner
Other Education:
Studied Liberal Arts at AIMS community college in Greeley, Colorado. https://www.aims.edu/  Where I studied psychology, philosophy, yoga, holistic health and biofeedback. This helped me with a good foundation as I started my journey as a massage therapist.
Testimonials:
"Thank you, Hawten! I came to you at a time that I was in a great deal of muscular-skeletal pain and was not finding answers or help anywhere else. You individualized your treatment and varied what you did for me based on my need each and every time. You concerned yourself with my pain and taught me things I could do at home and outside my massage time. I truly felt your experience and expertise in your massage technique. I felt very comfortable with you and your personality, never feeling exposed or awkward. You helped me with my pain and my attitude so much more than my chiropractor and medical doctors. Thank you again!  Melissa –S.
---
"I have gone to Hawten for a monthly massage since 2008, he is a great massage therapist.  His massages range from relaxing to highly therapeutic depending on the situation; he also brings the component of energy work to his practice, which I very much appreciate."  –Kerrie Abbott
---
"A few years ago I suffered from Frozen Shoulder, a condition that the medical community told me would probably just go away in about 9 months. I went to see Hawten for therapeutic massage and working with Hawten and a local acupuncturist, I was able to have full use of my shoulder in a matter of weeks rather than months.  I highly recommend Hawten Slaton as a massage therapist."  –Tod Phillips
---
"Hawten is a very intuitive practitioner and has proven to be very experienced healer by using a variety of techniques during each session, for each muscle group.  He is always one step ahead of my mind – instead of quietly hoping the therapist will work on a specific area, he is already there.  Spot-on with pressure and very tuned in to the different layers and their response to his technique.  During the hour-massage I find peace – it quiets my mind, I get lost in the relaxation, I breathe deeply.  Each session is a wonderful gift to myself and my soul."
– Julie-G.
---
"I have had various types of bodywork done, including Neuromuscular therapy, Muscle Activation Therapy, Reflexology, and Deep Tissue Massage. I came to Hawten completely fatigued, with adrenal exhaustion, and high anxiety and stress. He loves what he does and has a deep, intuitive focus as he uses various holds and movements with his hands and feet. I was a bit nervous about having someone use his feet on my back, but he applies just the right amount of pressure with pinpoint accuracy. Two or three hours later, I felt centered, relaxed, and completely at peace. If you've never had Ah-Shiatsu work done, I would highly recommend you set up an appointment with Hawten. A+++" –Todd V.
---
I have been going to Hawten Slaton for 6 months now on a regular schedule. Sitting at the computer all day takes its toll on my back, shoulders and neck. The stiffness, tightness and pain are what took me to a massage therapist. Hawten is calm, professional, thorough, and very good at what he does. After each massage, I wonder how they can get any better, but they do! It is one hour of total bliss! Since going every 4-6 weeks, I no longer have the discomfort that I experienced before. Regular massage therapy is now a part of my personal health regime and Hawten is the one!
Ann Marie
---
I never knew how much regular massage therapy would positively impact my work. Hawten is a pleasure to work with and a true master of his craft.
Josh Shuler
---
Hawten has been my massage therapist for 16 years. He communicates very well and is able to give me the therapy that I need. He is not a 'cookie cutter'/same routine massage therapist. He is very knowledgeable and flexible. I am always impressed at the various continuing education opportunities he takes advantage of and incorporates into his treatments. For the last two years I have been seeing him for Ashiatsu, a powerful technique that leaves me energized and loose. As a weight lifter I find that the acupressure techniques combined with myofascial release has been one of the best ways to recover from workouts. The energy work aspect of it is phenomenal. I suffer from fibromyalgia and his therapy has allowed me to continue functioning these last 16 years allowing enough recovery to start working out again. He has also given me the emotional support needed during trying times. A true holistic practitioner who I cannot recommend highly enough!
Melissa Powell
---
I've worked with Hawten for a few years and appreciate his gifts in massage therapy helping me feel my best – so much so that we now have an ongoing arrangement with him to provide all our staff with chair massage every month. I once recommended someone in the early stages of a migraine to Hawten, and afterwards she told me she felt better almost immediately and didn't realize Colorado had massage therapists that were that good. If you are looking for someone who is completely focused on your health and well-being, and who is able to provide different kinds of massage tailored specifically to your personal needs, then you should schedule an appointment with Hawten soonest.
Chris Hutchinson
---
Professional Code of Ethics for Therapeutic Massage
I hereby pledge to abide by these Codes of Ethics as outlined below:
I am a member of the National Massage Therapy Association in good standing.
Code of Ethics
This code of Ethics is a summary statement of the standards of conduct that define ethical behavior for the massage therapist.  Adherence to the Code is a prerequisite for admission to and continued membership in the National Association of Massage Therapists (NAMT).
I will represent my qualifications honestly including education, certifications and professional affiliations and accurately inform clients, health care professionals and the public of the scope and limitations of my discipline. I will provide only those services I am qualified to perform.
I will provide treatment only where there is a reasonable expectation that it will be advantageous to the client and will acknowledge the limitations of and contradictions for massage therapy and refer clients to appropriate health care professionals when indicated.
I will not discriminate against clients and/or healthcare professionals.
I will abide by the Federal guidelines of the Health Insurance Privacy and Portability Act (HIPPA). I will safeguard the confidentiality of all client information, unless disclosure is required by law, court order, or absolutely necessary for the protection of the public.
I will respect the client's right to refuse, modify or terminate treatment at will regardless of prior consent given.
I will exercise my right to refuse to treat any person or part of the body for just and reasonable cause.
I will respect the client's autonomy by providing draping and treatment in a way that ensures the safety, comfort and privacy of the client.
I will not, in any circumstance, initiate or engage in sexual conduct, activities, or sexualizing behavior involving a client, even if the client attempts to sexualize the relationship.
I will refuse any gifts or benefits that are intended to influence a referral, decision or treatment or those that are purely for personal gain and I will avoid any interest, activity or influence which may conflict with my obligation as a massage therapist to act in the best interest of my client or the profession.
I will refrain from practicing under the influence of alcohol, drugs or any illegal substances, with the exception of a prescribed dosage of prescription medication which does not impair my ability to practice safely.
I will refrain from using NAMT membership, including the NAMT name, logo or other intellectual property, or the member's position, in any way that is unauthorized, improper or misleading.
I will refrain from engaging in any activity which would violate confidentiality commitments and/or proprietary rights of NAMT or any other person or organization.