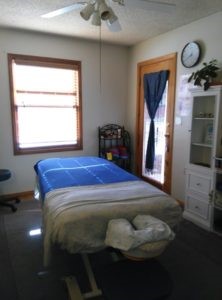 I've Never Had a Massage Before. What Should I Expect?
When you call for an appointment, I will ask you some general questions about your health and if you have any illnesses, conditions, or issues of pain or stress. I will ask you to complete a new client intake form. This covers your health history,
Time Planning: For first appointments, please allow an additional 20-30 minutes extra time (no charge) to your appointment time. We will discuss your health history and any stress or pain issues prior to the actual massage or other therapy. This information will help me provide the most appropriate therapy for you. After your session I may have some self-care suggestions for you.
Do I have to Undress for my Massage?
As a massage therapist, my goal is to make sure you are comfortable at all times and to ensure your complete privacy. Your session will be in a private room. You will undress to your comfort level (in privacy) after I leave the massage room. In a professional massage you are always completely covered (draped) with a large sheet (and a blanket if it's cold) and only the area being worked on (your back, leg, arm, etc..) is uncovered during the therapeutic work on that area. Note that draping is always required for all sessions. After the massage, I will leave the room so you can get dressed in privacy.
If you (or someone you know) are uncomfortable with the idea of undressing for a massage, then you might like to try one of the other therapies where you remain fully clothed. Consider Foot or Hand, Chair Massage, Ashiatsu Massage and Pranic Healing.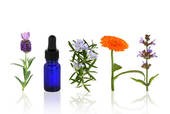 Aromatherapy
The wonderful benefits of aromatherapy (if desired) is included at no extra charge for massage therapy, massage cupping or Foot Massage. Together we will select your choice of pure therapeutic essential oils. Note that if you are sensitive to fragrance, or prefer no aromatherapy, I will provide your session without essential oils.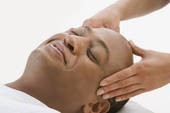 Will the Massage Hurt or be Painful?
NO! Massage therapy should never be painful. There are various kinds of massage from Swedish Relaxation (light to medium pressure) to Deep tissue massage (medium to deep pressure) to Ashiatsu massage (medium to deep pressure). These are different therapies and have different techniques and goals. No matter which one you choose, each session is always customized to your needs and comfort level and as light or a deep as you like but never painful.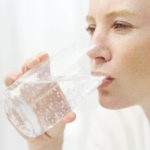 How Will I Feel After My Massage or Ashiatsu Session?
My hope is that you will feel much better after experiencing Relaxation massage or Deep Tissue or Ashiatsu bodywork as it helps you relax and de-stress. Most clients report that they feel better and sleep better. Note: It is important to drink at least 1-2 liters of water after your massage and the next day as your body is releasing toxins that were stored in your sore muscles.
How Often Should I Get a Massage?
You can get as massage daily, weekly, monthly or as often as you want, and your budget allows. In general, as a maintenance level, it's a good idea to have a massage every month to help your body stay in condition. However, in the case of chronic pain or rehabilitation you may need massage more often, maybe every week for a few weeks until you feel better and your condition improves. Together we will assess your situation and see what is most beneficial for you.
Preparing for your massage, Ashiatsu, Foot massage or other therapy – what should I do?
If your appointment is for Foot massage, please wash your feet well and make sure your toenails are trimmed. If you are coming for an appointment after any intense physical activity – running, exercise, gardening, farm work, working with animals, dog grooming, construction, road maintenance, heavy work-out, etc., involving sweat, sawdust, manure or dirt, please shower before your appointment for everyone's comfort.
Do You Take Insurance?
No, I do not do insurance billing. At this time most health insurance does not cover massage therapy for general pain relief, preventive care or improved health. And, unfortunately, Massage Therapy is not covered by Medicare or Medicaid.
Please speak directly with your health insurance company to see if they will reimburse you directly for therapeutic massage.
Massage therapy is allowed under some Savings Accounts (HSA) or Flexible Spending Accounts (FSA) – please check the exact details of coverage with your plan to make sure massage therapy is a covered expense and that you can submit a receipt to be reimbursed for your payment.
Full payment must be made on the day of your appointment by cash, local check or credit card.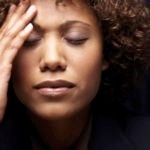 If I am not feeling well the day of my appointment what should I do?
Please call me right away to reschedule your appointment. You should not receive a massage while you are sick or feeling like you are 'coming down with something', You should not get a massage if you have a fever, nausea, migraine, a cold or the flu, or any contagious illness.
What If I Have a Health Condition or Illness?
If you are in general good health, then you will likely benefit from massage or Ashiatsu. However, under the following conditions, an Ashiatsu and Massage session may not be beneficial. Please call me for a free phone consultation if you have any of these conditions:
Right after Surgery. (After you are released by your doctor or medical practitioner you may have massage or Ashiatsu to assist you during your rehabilitation.)
Current case of athlete's foot – will prevent you from a Foot Massage session on your feet until it is completely clear and no longer contagious. (You may still have massage on your body.)
Unstable blood pressure that is not controlled by medication
Congestive heart failure
Severe Swelling (edema) of the body or feet
Contagious illness – cold, flu, etc.
Serious illness – Cancer, AIDs, H1N1, West Nile virus, Kidney Failure, etc.
What if I Just Want to Relax without being touched?
You could try a Pranic Healing session. Pranic healing is an energy work that works outside of your body with no touching at all. It works by moving energy around your body, clearing stagnant energy and energizing areas that are needed. Most people find that they are very relaxed and find great relief from the day's stresses. Each session is customized to your particular issues. Following a specific protocol. Please see the Pranic Healing page for more information.
Every session is always customized to you and your needs.
What if I'm Ticklish?
If you are sensitive and ticklish, not to worry. I use firmer touch, so it does NOT tickle, but feels really good.
Please Ask Questions
My goal is to make you as comfortable as possible and I want you to ask questions. Please tell me immediately if something needs to be adjusted (you want less pressure, you are cold or hot, need another pillow, etc.…).
What Are Your Qualifications as a Massage Therapist?
I am a Certified Massage Therapist with training at The Boulder School of Massage. I received over 1000 hours of training as part of my certification to perform massage therapy. I am a licensed massage therapist in the State of Colorado, where my practice is located and have extensive training and education. My qualifications and trainings exceed all the required standards.
Qualifications for Massage Therapy differ depending on the state. In Colorado, all Massage Therapists must be licensed or certified AND registration is required with the State of Colorado Department of Regulatory Agencies (DORA). Registration laws in Colorado require that the therapist has:
* completed the required hours of classroom training with the proper massage therapy curriculum
* graduated from a State-approved accredited school
* proved their credentials and education.
* been fingerprinted as well as had an official criminal background check from the Colorado Bureau of Investigation.